The Top 40 Most Arts-Vibrant Communities in America (2019)
By Zannie Giraud Voss, SMU DataArts Director, Glenn Voss, SMU DataArts Research Director with Daniel Fonner and Ludovica Marsili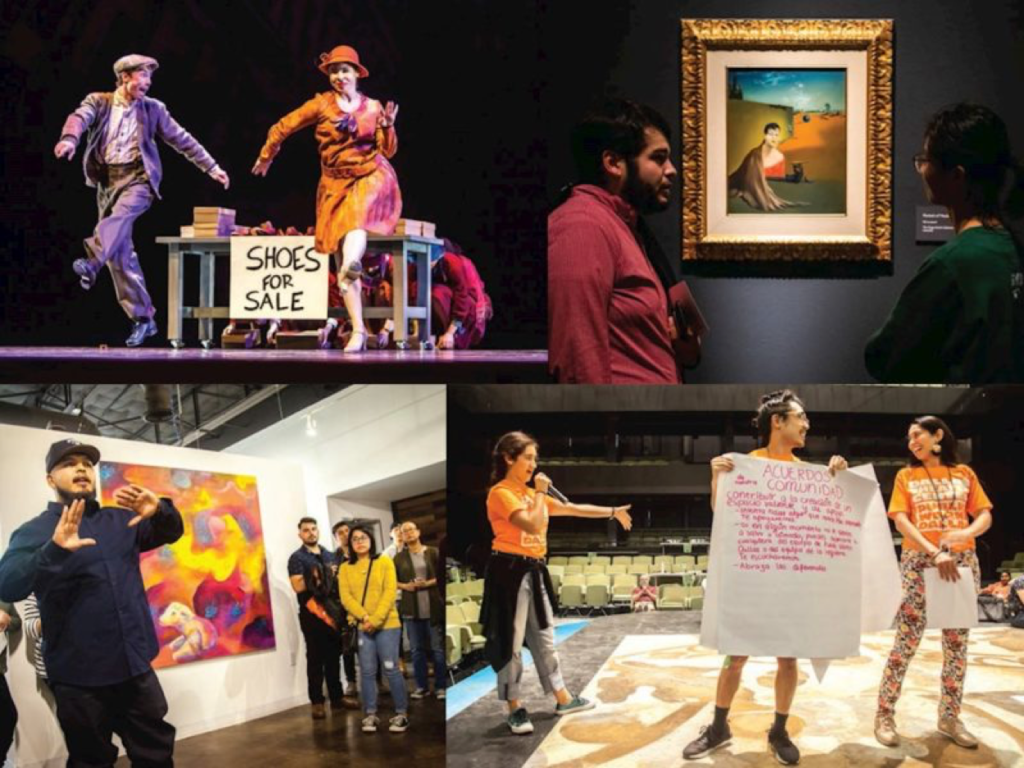 SMU DataArts, the National Center for Arts Research, is pleased to provide the 2019 Arts Vibrancy Index Report. Like its four predecessors, this year's edition draws upon a set of data-informed indices to identify arts-vibrant communities across the U.S.
Arts and cultural organizations exist where people live throughout the nation, serving communities both poor and affluent, rural and urban. Their ubiquity is a testament to the human need for creativity and desire to engage with artistic expression. In 2018, arts activity in every U.S. Congressional District in the country benefited from federal funding from the National Endowment for the Arts.
Arts and cultural organizations are engines of community development and community cohesion. The arts provide culturally infused experiences that are consumed in an open, social setting, which is ideal for engendering social integration in a diverse marketplace. The current climate of political, sociocultural, and economic polarization makes it more important than ever to recognize and celebrate the essential role that arts and culture play in making communities throughout the country not only more vibrant places to live and visit but also more unified, safe, and tolerant.
Top 40 Arts-Vibrant Communities, by Location and Size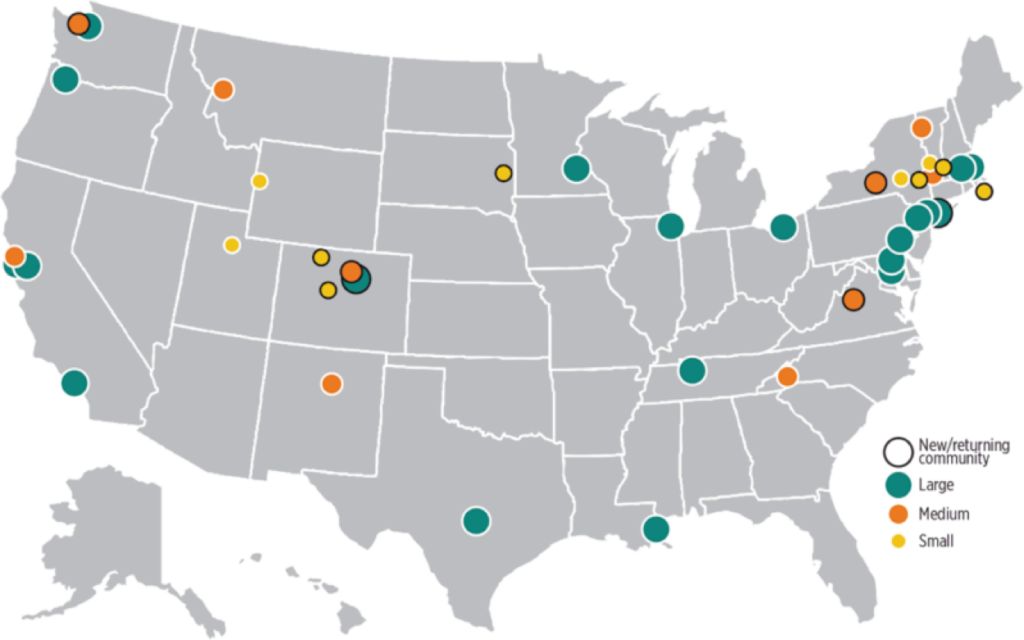 Top 10 Arts-Vibrant Medium Communities
Metropolitan Areas or Metro Divisions with population 100,000 to 1,000,000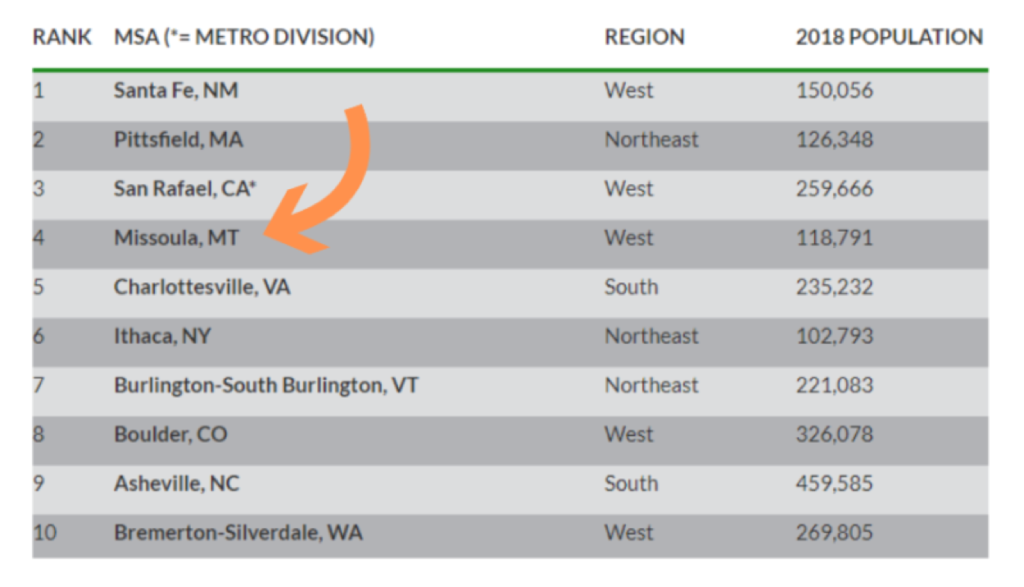 Missoula, MT: #4 for Arts-Vibrant Medium Communities
Missoula, MT has an engaged an active population, who are just as likely to participate in outdoor recreation as they are to go to the symphony or attend a theater production. This is supported by its ranking as 4th on Arts Providers and in the top 4% or better on every sub-measure, as well as in the top 7% overall on Arts Dollars. Throughout the year, festivals are plentiful – e.g., Big Sky Documentary Film Festival, International Wildlife Film Festival, Montana Festival of the Book, Buddy DeFranco Jazz Festival, International Choral Festival, River City Roots Festival, Missoula Symphony in the Park – and there are monthly gallery walks that include 12 private galleries in the downtown area. Missoula is home to the University of Montana, and there is a strong town-gown partnership. Although there is no designated arts district, more than 60 nonprofit arts and cultural organizations operate in Missoula; while most are small, a handful are nationally known, most notably the Missoula Children's Theatre. Missoula's museums are diverse, ranging from the Historical Museum at Fort Missoula and the Rocky Mountain Museum of Military History to the Montana Museum of Art & Culture and the Missoula Art Museum. Performing arts organizations include Missoula Symphony Orchestra and Chorale, String Orchestra of the Rockies, Montana Repertory Theatre, and Missoula Community Theatre. Regular arts classes are offered at the Zootown Arts Community Center, the Downtown Dance Collective, and the Clay Studio of Missoula. The entertainment industry has grown dramatically in recent years. There are two distinct 4000+ outdoor amphitheaters with full summer schedules of national acts. The historic Wilma Theatre, renovated in 2015, presents national touring acts through the year. The region has a full and diverse event schedule, great engagement through volunteerism, and overall tremendous community support. Missoula attracts many writers, visual artists, and musicians. Missoula ranks 6th on Government Support overall and 2nd in the country on the number of state arts grants per capita. Arts Missoula is the local arts agency, serving as a resource for the coordination, development, and support of art and culture for the benefit of the Missoula community.To read the full report, visit SMU Data Arts online here!