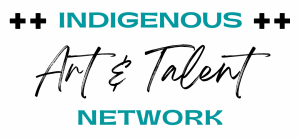 Arts Missoula is so pleased to welcome one of our newest fiscally sponsored organizations: Indigenous Art & Talent Network, a project of Indigenous Made Missoula! On October 10, 2022, Indigenous Made Missoula ( founders of Indigenous Art & Talent Network) was created in response to a lack of resources and economic opportunities for Indigenous artists in Missoula. Indigenous Art is an untapped viable industry and this deficit creates a barrier to economic success for Indigenous community members as well as a lack of representation at community events and in public spaces.
Indigenous Made Missoula is a social enterprise dedicated to creating an inclusive and equitable space for Indigenous people from all walks of life to express themselves through art and generate income from entrepreneurship. Indigenous Made Missoula has also created opportunities for artists and entrepreneurs to support themselves and their families through their creative expression, traditional art forms and business. Programming includes culturally-informed event management and the First Peoples' Market.
Indigenous Made Missoula has quickly become a central point of communication for artists and those seeking art and talent produced by Indigenous people. We support talent directly by establishing a safe and empowering community, promoting their work, and creating entrepreneurial resources and professional development. Indigenous Made Missoula eliminates barriers of entry for those beginning their creative journey and protects against cultural appropriation and fraud.
Indigenous Made Missoula is based in the ancestral homelands of the Séliš and Ql̓ispé people, presently known as the City of Missoula. Our organization serves the Indigenous community of Missoula as well as the surrounding area including the Confederated Salish & Kootenai Tribes of the Flathead Indian Reservation.