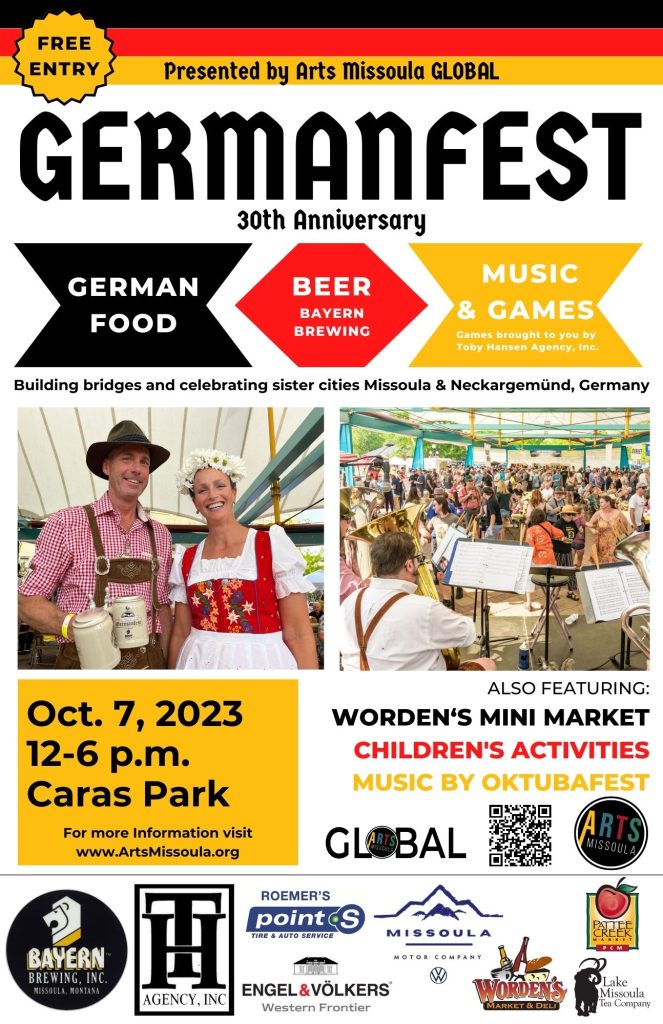 New: Germanfest 2023 Games!
We will be offering 3 additional Germanfest games: Stein Holding Contest, Fish Slapping Contest, and Log Sawing Contest!
Click here to learn more and register for a game on October 7th!
---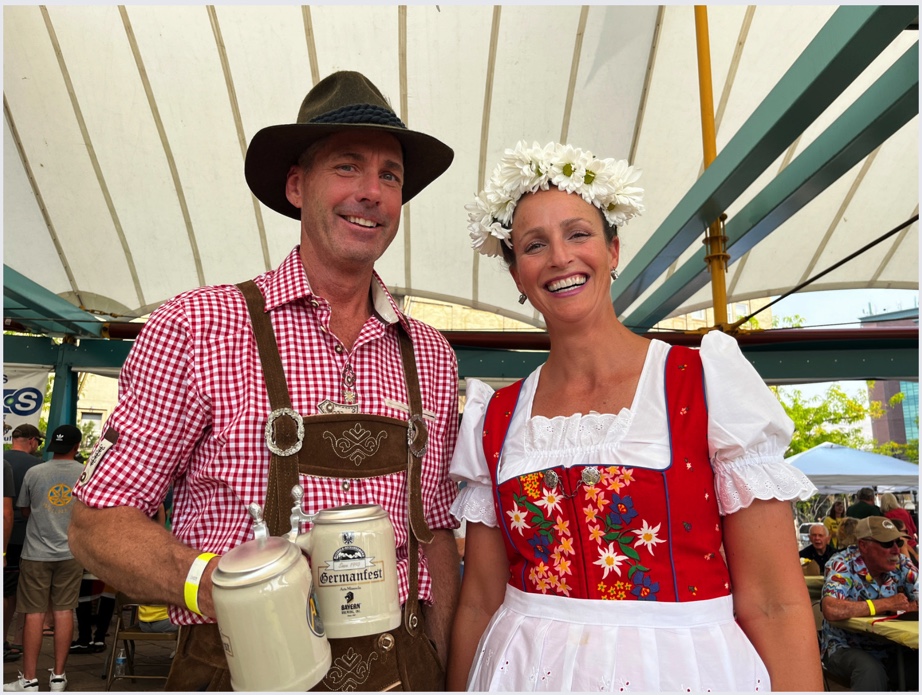 Germanfest Features:
Authentic German Food & Beer, Live Music, Children's Activities & Sister City Display, Germanfest Mini Market, Games and MORE!
Volunteer
For any questions, email info@artsmissoula.org or give us a call at 406.541.0860.
History of Germanfest
1993 – 2023  
30th Anniversary of Missoula's Sister City Connection with Neckargemünd, Germany 
The Origin Story
2023 marks the 30th anniversary of Missoula's Sister-City Partnership with Neckargemünd, Germany. In 1992 – 1993, delegations from these two cities, including choirs, mayors, city council members and interested citizens, traveled to their potential sister-city to get to know one another and to discuss whether such a partnership might be feasible.
The sister city idea was born during the 1990-91 academic year when Professor Jerry Fetz, from the University of Montana and Professor Erich Pohl, from the University of Heidelberg received Fulbright Awards to trade places for the year. They both became acquainted with their host city mayors and agreed this relationship would be beneficial to both parties. Mayor Dan Kemmis of Missoula and Mayor Oskar Schuster of Neckargemünd, with the blessing and support of their respective City Councils and numerous citizens, agreed that this partnership should be inaugurated and bring these cities, their students, and citizens of all ages closer together.
Over the past 30 years, we can look back to a vibrant partnership that has focused on high school and university students (close to 400 young Missoulians and young Neckargemünders have spent memorable times in each other's cities, schools, and households) as well as numerous citizen -to-citizen and cultural exchanges. Although the high school student exchange program between Hellgate and the high school in Neckargemünd has experienced a hiatus after some 25 years, efforts are underway to revive the program.
Generous Missoulians have shown guests from Germany not only Missoula and our immediate surrounding area, but Montana's spectacular landscapes and colorful people as well. And gracious Neckargemünders have greeted and welcomed Missoulians into the homes of on that side of the Atlantic. Exploring Neckargemünd and nearby Heidelberg, the oldest and perhaps most famous German University town that is just five miles downstream on the Neckar River. As well as other remarkable and beautiful areas and towns in this southeast region of Germany.
About Neckargemünd
A very old city, Neckargemünd was first cited in an official document over 1,000 years ago. It is now made up of the main part of town, as well as four additional nearby former villages. It is located on the Neckar River where the smaller Elsenz River flows into it. It also has a river running near it! The town is nestled in by a walled hill of Dilsberg and another hill to Mückenloch, and up to the town of Waldhilsbach. Each of the former villages has its own personality, but all are proud areas of Neckargemünd. In between all these parts of the town lie beautiful, forested areas that invite long walks for every season. Neckargemünd is smaller than Missoula but attracts a lot of visitors from the larger towns like Heidelberg or Mannheim, where many Neckargemünders work or study (collectively known as the Odenwald).
Friendships and understanding have blossomed for the respective partner city, region/state, and country. Out of this partnership, arose the annual Germanfest in Missoula, a fall festival in Caras Park drawing 1000's over 30 years.