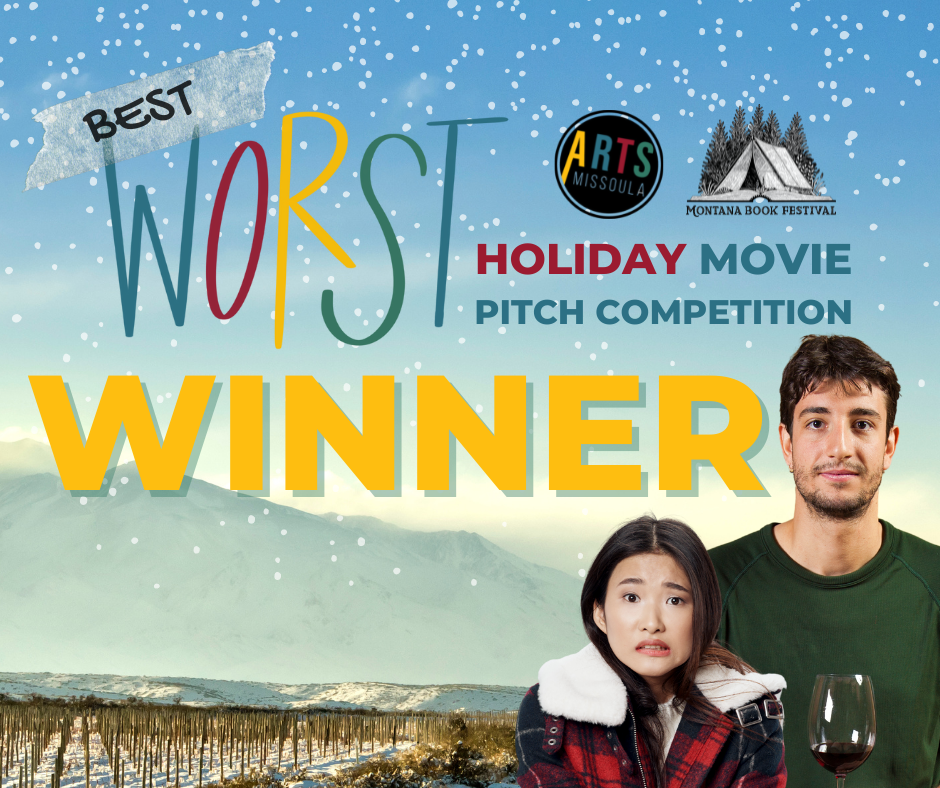 Posted on
Earlier this year, Arts Missoula and Montana Book Festival teamed up to request people's cheesiest, most-Hallmark-wannabe holiday movie pitches. After careful review of the hilarious, bad-in-a-good-way submissions, we have our winner!
Rebecca Ashcraft of Polson, MT submitted the winning pitch: "Walking in a Vintner Wonderland." Congratulations, Rebecca, and thank you for bringing us some joy this holiday season!
Part of the prize for the winner was a movie poster based on the pitch. We were also lucky enough to tape Rebecca reading the pitch! The poster, the video, and the pitch are below.
WALKING IN A VINTNER WONDERLAND
"When her Olympic skier boyfriend calls off their engagement before a Christmas trip to Vail, Julie Swansong swears off winter sports forever and books a solo holiday trip to sunny Napa Valley, California. But Mother Nature has matchmaking plans, awakening Julie's midwestern instincts by dumping five feet of snow on the vineyard resort where she's staying.
Julie helps Rocco, the winery's impossibly handsome owner, shovel snowdrifts from his tractionless sportscar and precious grapevines, then shows him how to prevent frozen water pipes. But she faces a much slipperier slope while falling in love as they frolic in the snow for the rest of her stay. Should she teach him how to build a snowman that doesn't look like it was thrown together by an angry toddler? She aches to introduce him to ice skating, but isn't that a gateway activity to ski lessons?
Her frozen heart is definitely beginning to melt, but Julie is older than she was at Thanksgiving, and understands that relationships face extinction approximately every four years. While she's grateful to global warming for bringing them together, Julie fears her newfound hottie may prove coördinated enough to someday qualify for an Olympic event. Can she find the strength to start this journey by leaving Rocco's defective snowmen alone?"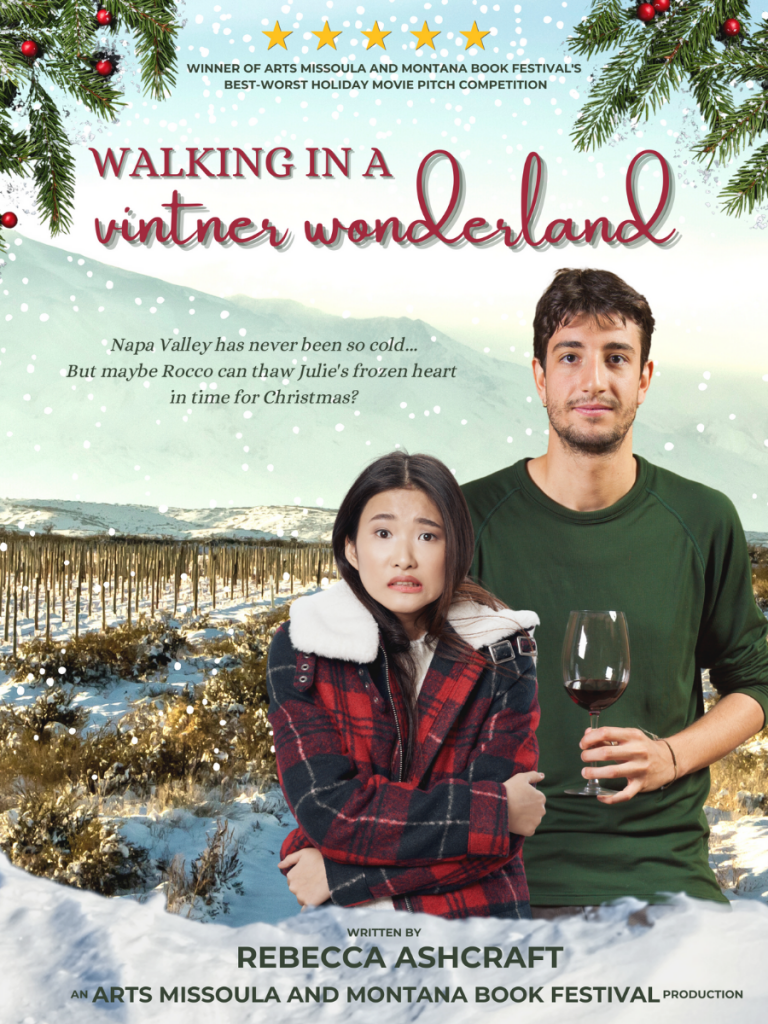 About Rebecca: Rebecca Ashcraft worked as a nurse for 35 years, secretly writing on the side and stuffing her laptop's cyber-drawers with word combinations in every imaginable genre, before retiring and moving to Polson, Montana. She should be used to the area's breathtaking beauty by now, but is still that neighbor who runs to the window when honking geese fly overhead, slams on the brakes to take pictures of bored deer lounging on lawns, and remains baffled on a daily basis by her great good luck.
---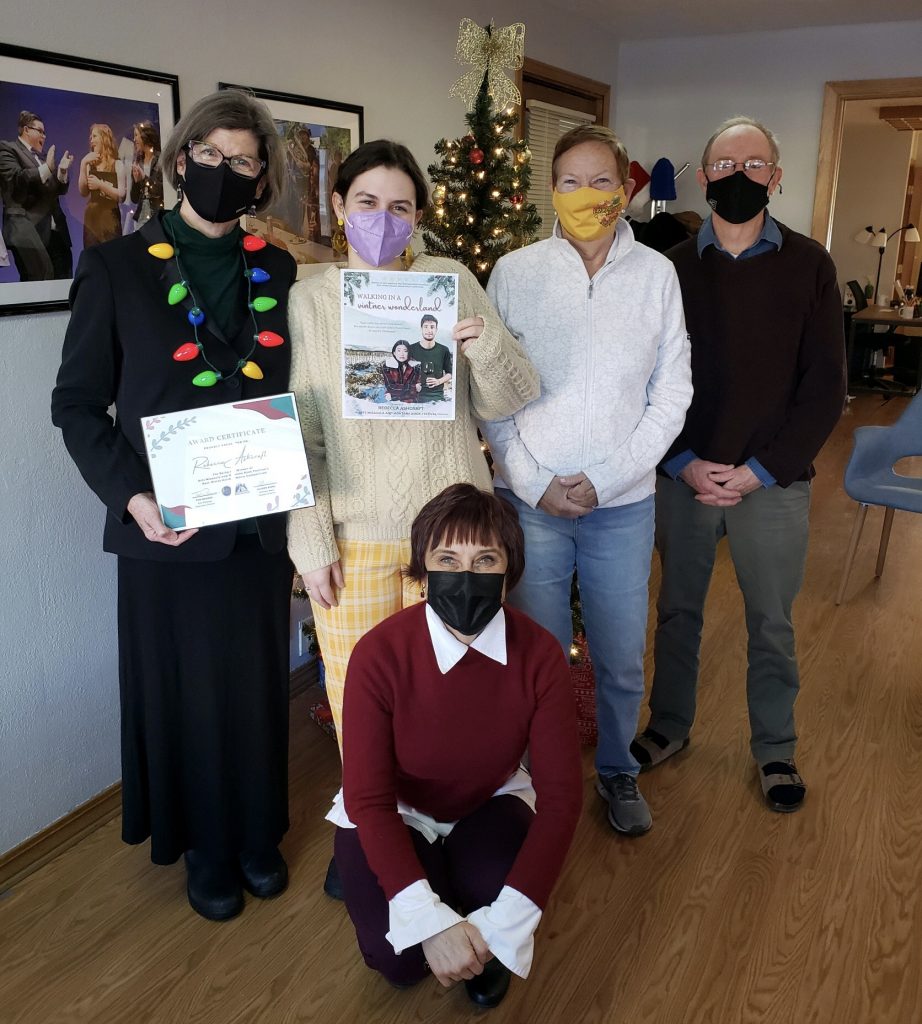 Left to right: winner Rebecca Ashcraft, Arts Missoula Office Manager Breanne, competition judge Marcia Holland, Arts Missoula Executive Director Tom Bensen. In front: Arts Missoula Development Director Magda Chaney