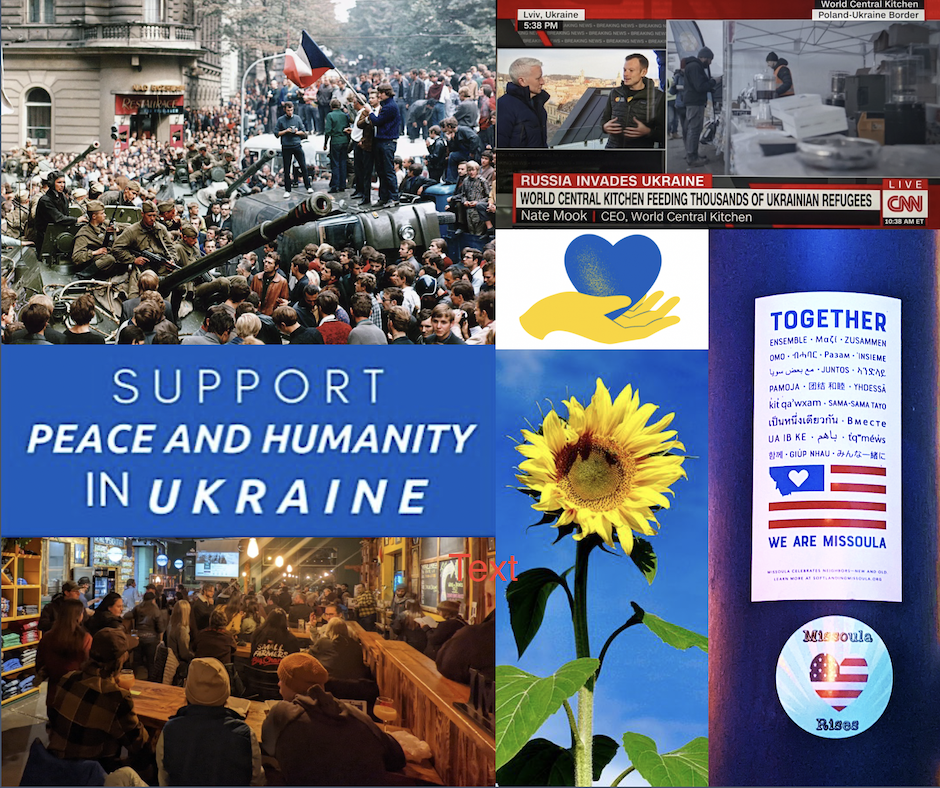 Posted on
The expression "bloom where you are planted" has always resonated with me. While I consider myself a global citizen that has put down roots in the Northern Rockies, I'm a first-generation American, born on Filmore Street in San Francisco (shhh!) to refugee parents who immigrated to the United States from Czechoslovakia. Thanks to the Caritas humanitarian social aid agency in Vienna, Austria, that helped asylum-seekers escaping persecution from the Soviet Union with resettlement to the United States, I was fortunate to be born free. My parents were not US citizens yet upon my birth, so I was granted dual citizenship and I grew up with English as my second language. I think the most creative use of my Czech passport was traveling to Cuba in the early 2000's when Americans still weren't allowed in, it was a magnificent step back in time.
Getting back on topic, starting on January 5, 1968 a brief period of freedom began when Czechoslovakia's national culture began to bloom with the freedom of speech and religion, abolition of censorship, and liberalization, a time that became known as the Prague Spring. However, the Soviet Union soon became alarmed by what appeared to be the imminent collapse of communism and rise of democracy in Czechoslovakia, so on the night of August 20, 1968 they deployed a military force of 200,000 Soviet-led Warsaw Pact troops and 5,000 tanks that violently invaded Czechoslovakia from land and sky to crush the Prague Spring. And just like that, the Iron Curtain forced Czechoslovakia back under the control of the Kremlin in Moscow. Sound familiar?
Fast forward to 2022, and what I'm seeing and hearing on the news is beyond belief, history repeating itself. The Kremlin (now the Russian Government) is back at it, sending in violent military force by land and sky, sending in troops and tanks in a gruesome attempt to decimate democracy, but this time, invading Ukraine, and prompting a mass exodus of millions of refugees. Rumor has it that Putin is trying to reintegrate historical Russia and restore pre-1991 Soviet era unity.

The deployment of military force on Czechoslovakia in 1968 was the largest in Europe since the end of World War II. I just read that the 2022 invasion of Ukraine is the largest military attack in Europe since World War II, again unleashed by the Kremlin. This just really struck a chord with me. I'm proud of my Eastern European heritage, my family's stories from the attacks, escape, and survival and starting over with nothing, nothing but freedom, which is everything, these are the stories that are woven into the fabric of my being. And from the core of my being, I felt an urgent need to connect with my place of being, here, in Missoula, with my community to seek solace and unity.
As luck would have it, on Monday, March 7th, when we were having our monthly Arts Missoula GLOBAL (AMG) Advisory Committee Meeting, we were welcoming two new members that would have the key to unlocking exactly what I was looking for. They were co-hosting an event on March 9th at Imagine Nation Brewing to support Peace and Humanity in Ukraine with a community fundraiser for the World Central Kitchen. Wow! Yes, count me in please! Those two fabulous new AMG Advisory Committee members are Jacqueline Flewellen, Director of the Jeannette Rankin Peace Center (JRPC), and Sarah Howerton, Development Coordinator for the International Rescue Committee (IRC) in Missoula, Montana's only refugee resettlement agency. Thank you both!
Also on our agenda at the meeting was an update on AMG's International Voices Podcast Spring Series: Food as Cultural Diplomacy. So far this season AMG's Director, Dr. Udo Fluck talks with chefs that came to Missoula through resettlement programs and now offer our community a taste of different ethnic cuisines. March's podcast features Beth Baker, the Program Manager of the United We Eat (UWE) Programme at Soft Landing Missoula, with Rozan Shbib, originally from Syria, who is the UWE Kitchen Assistant. February's podcast features Wissam Raheem (Kamoon food-truck owner), originally from Syria, who teamed up with Ammar Omar (Ragheef food-truck owner), originally from Iraq, to open a new restaurant in Missoula, Kamoon Arabian Cuisine.
Incidentally, Caritas Austria, the humanitarian charity that helped resettle my parents, has been resettling refuges from Syria and Iraq, and now they are helping refugees desperately fleeing besieged Ukraine.
After I left the benefit event for Ukraine at Imagine Nation Brewing, I walked across the street to pick up a falafel wrap to-go at Kamoon, got home and turned on CNN to see if we had entered World War III, and as I was taking a delicious bite of my wrap, I see José Andrés, a Spanish-American chef and founder of World Central Kitchen (the beneficiary organization of our community fundraiser for Ukraine) being interviewed on the Ukraine-Poland border where his team is providing cooked meals to refugees.
In that moment it hit me…. everything just came full circle. No matter where we are from or where we land, we can take refuge in each other right here, right now, in Missoula, Montana, and together, bloom where we are planted!
It's time to increase the world's appetite for PEACE!
ABOUT THE AUTHOR: Mia Hanak (or Hanáková) has been producing environmentally-themed, cause-related, public art installations and experiences in collaboration with the United Nations for the past 20-years through her organization Millennium ART International. Locally, Mia serves on the Arts Missoula Board of Directors and she is the Advisory Committee Chair of Arts Missoula GLOBAL.