International Voices with Udo Fluck
In Spring 2020, we inaugurated International Voices with Udo Fluck, a monthly 30-minute podcast. 10 additional podcasts are scheduled for 2020 and will be published the first Thursday of every month starting in February. They will feature a special conversational guest and inform the listening audience about upcoming new, as well as established international programming events, activities, and collaborations about "all things cultural and global" in the Garden City.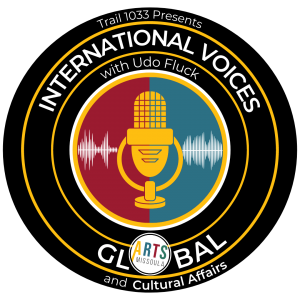 The views and opinions expressed in this program are those of the persons appearing on the program and do not necessarily reflect the policy, position, views, and opinions of Arts Missoula and Global and Cultural Affairs. Any content provided by our podcast guests are their opinions and are not intended to malign any religion, ethnic group, club, organization, company, individual, or anyone or anything.
Available Now:
May 2021: "Creativity During COVID" with Dennis Kozeluh of Vienna, Austria (Part 1 of a 3-part Series)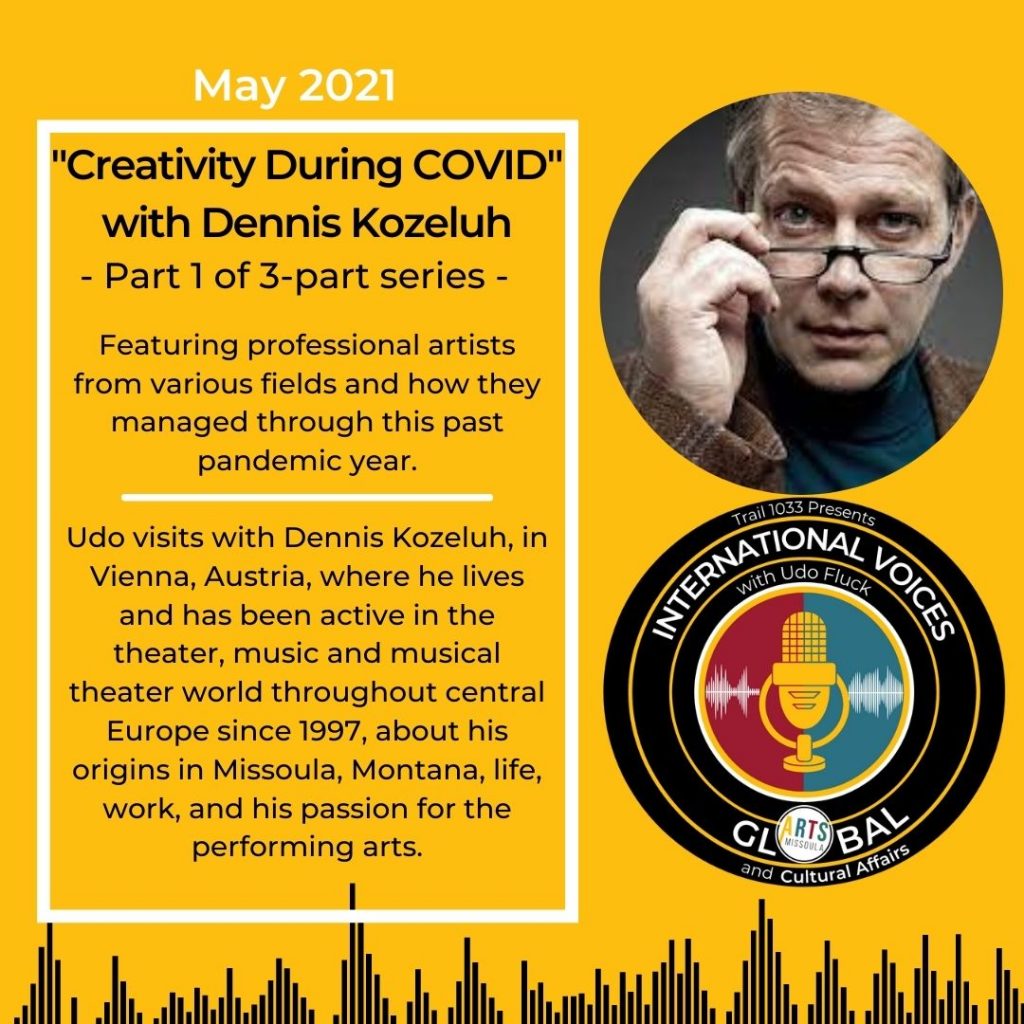 Udo visits with Dennis Kozeluh, in Vienna, Austria, where he lives and has been active in the theater, music, and musical theater world throughout central Europe since 1997, about his origins in Missoula, Montana, life, work, and his passion for the performing arts. In addition to playing in most of the major musicals in Vienna, he has performed in light and contemporary opera and operetta, has directed shows, and written and directed two musicals for children. Part of a three-part series titled: "Creativity During COVID", featuring professional artists from various fields and how they managed through this past pandemic year.
April 2021: Annita Lucchesi, founding Executive Director of the Sovereign Bodies Institute
Annita Lucchesi, founding Executive Director of the Sovereign Bodies Institute, started the Missing and Murdered Indigenous Women and Girls movement. This dialogue is being presented by two women with Indigenous heritage. The guest host for this special edition of International Voices, is Michelle Guzman, the Director of American Indian Student Services at the University of Montana, and Global & Cultural Affairs Advisory Committee Member.
March 2021: Melissa Kilby, Executive Director of Girl Up, a global leadership development initiative that advances girls' skills, rights, and opportunities to be leaders.
Honoring Women's History Month, Udo is joined by Melissa Kilby, from Girl Up headquarters in Washington D.C., to discuss the global efforts in transforming a generation of girls to be a force for gender equality and social change, following the motto:" When girls rise, we all rise!".
February 2021: New Zealand Māori Chief Wiremu Te Awe Awe and his wife Trieste Te Awe Awe in an intercultural dialogue around democracy and freedom
In this first podcast of 2021, Udo virtually travels to Missoula's sister city Palmerston North in New Zealand to have a conversation discussing the idea of democracy itself, what strengthens and weakens democracy and how the concept of democracy relates to indigenous communities, like Chief Te Awe Awe's tribal family, which has an 800-year history. Recording with captions available here.
December 2020: Ulrich Kamp, Professor of Earth and Environment and Chair of the Environmental Studies Program at the University of Michigan in Dearborn
In this last episode of 2020, Udo talks with Ulrich Kamp, a glaciologist with an interest in environmental studies and climate change, who has researched and taught at the University of Montana and currently researches and teaches at the University of Michigan in Dearborn. Their conversation focuses on climate change and its impact on societies and cultures, among other talking points. Recording with Captions available here.
November 2020: November 2020: Brigitta Miranda-Freer, Executive Director of the Montana World Trade Center, Missoula, MT
Udo Fluck visits with Brigitta Miranda-Freer, Executive Director of the Montana World Trade Center (MWTC) and Director of operations for the Montana Technology Enterprise Center (MonTec) and how the MWTC assists small and medium-sized businesses across Montana and how the MWTC and MonTec connect and collaborate. Recording with captions available here.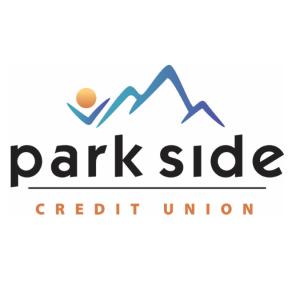 The monthly podcast International Voices is made possible through the generous support of Park Side Credit Union in Missoula. Arts Missoula is a proud member of the 2020 Park Side Partner Program.
Radio Interviews
In 2019, Missoula radio station, The Trail 103.3, invited Udo Fluck to talk about the World View Films Series at the Roxy Theater, for a few minutes on their Monday Morning Radio Program.
The interviews are posted below on Spotify.
Sign up for free Spotify account here to listen in!
Radio Interview: December 15, 2019

Radio Interview: November 7, 2019
Radio Interview: October 14, 2019
Radio Interview: September 6, 2019
Radio Interview: February 21, 2019