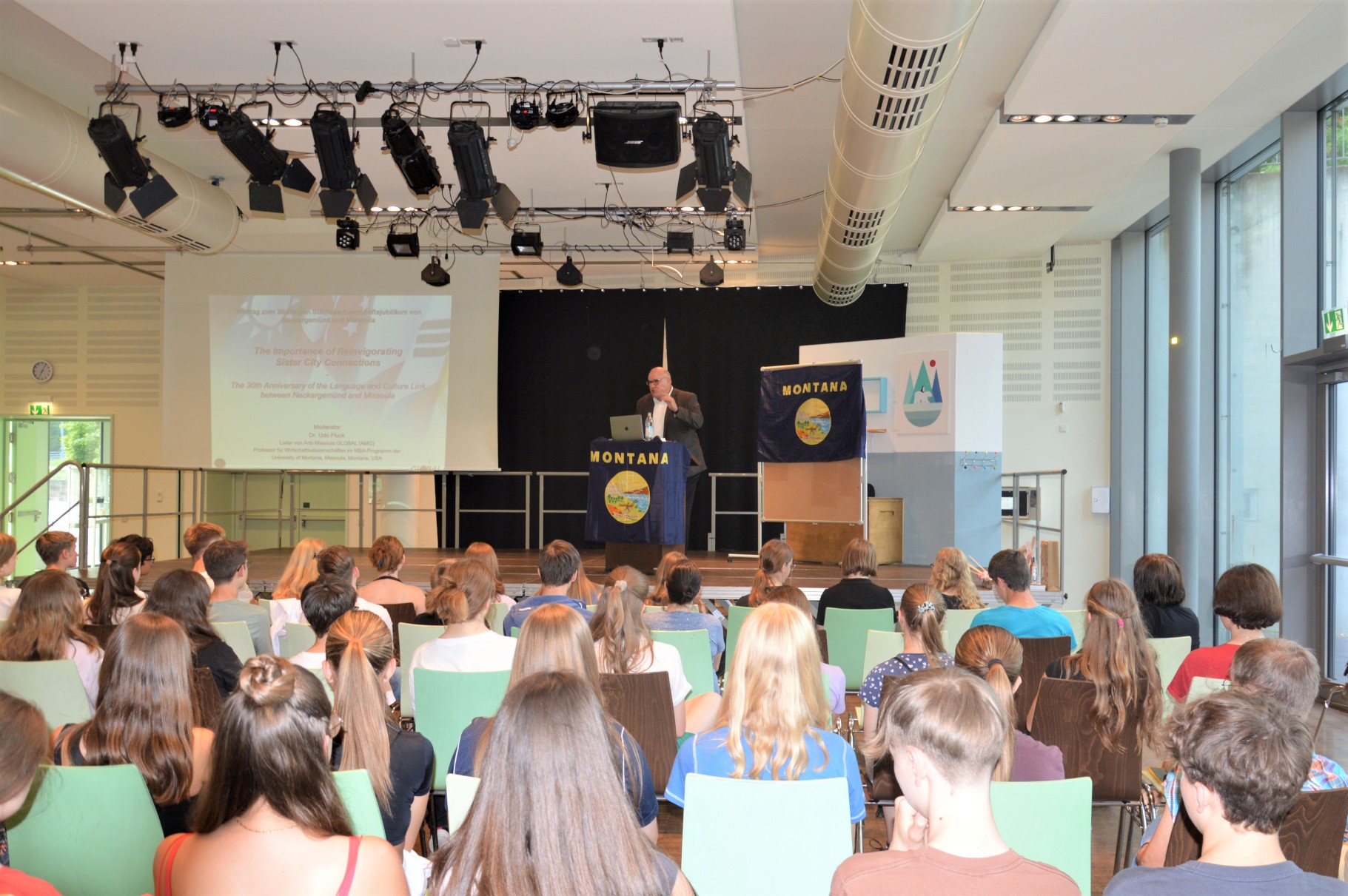 Posted on
Dr. Udo Fluck, Director of Arts Missoula GLOBAL, visited Missoula's German sister city Neckargemünd, this summer, to help celebrate the 30th anniversary of the twinned connection between the two cities. The German city of about 14,000 people started a formal agreement, after Professors Jerry Fetz from the University of Montana and Erich Pohl, from Heidelberg University, participated in a faculty exchange, which resulted three decades ago in the start of the sister city relationship. Neckargemünd, a picturesque and ancient town (founded in 988) on the Neckar River, is located very close to Heidelberg, Germany. Neckargemünd has attracted hundreds of students from Hellgate High School to participate in a mutual student exchange and language immersion with the Max Born High School in Neckargemünd during the past 30 years. Udo was invited to provide an evening presentation titled "The Importance of Reinvigorating Sister City Connections" with the focus on future student exchanges. Over 50 students and parents attended the event and had follow-up questions for Udo, who strongly believes in the educational value of academic exchange programs. "The pandemic stopped international student exchanges and it is important that young people have this opportunity again to learn a language and can immerse themselves in the culture on location and interact with native speakers. It is people-to-people diplomacy at its best" says Udo. While educational benefits are obvious, twinned cities also offer opportunities to benefit the arts, tourism, commerce, and sports, to name but a few. While the sister city founders have devoted their volunteer time and energy since 1993, to keep the sister city flame burning bright, Udo believes that finding the next generation of sister city enthusiasts is vital in continuing, and hopefully growing, the friendship connection in the years to come. "Sister cities thrive on human energy, they are people-driven and I would like to see the next generation getting involved and carrying the torch towards the 40th anniversary", Udo encourages.
Udo, who was born and raised in Wiesbaden, Germany, and enjoys the 90-minute drive on the Autobahn to Missoula's twinned city. "Neckargemünd embodies the quintessential small German town, the charm of the medieval narrow streets, the Romanesque style architecture, the authentic restaurants, offering all the classic German dishes, and, not to be overlooked, a river runs through Neckargemünd, just like in Missoula, makes a visit there an unforgettable experience", according to Udo. All travel expenses were covered by funding sources in Germany.
For those of you interested in two German newspaper articles covering the visit in Neckargemünd, please click on these two links: Heidelberg Newspaper Neckargemünd Newspaper
Looking 10 weeks ahead, it is worth mentioning, that the annual Missoula Germanfest, one of Arts Missoula's largest outdoor events, celebration German culture and traditions, is also in its 30th year this year, celebration the ongoing friendship between Neckargemünd and Missoula. The family event has a new date, with extended time, for additional cultural immersion, taking place on Saturday, October 7th from noon to 6:00 p.m. The location remained the same: Caras Park. May we announce an early "Save the Date" for this year, to stop by Caras Park, for German food, cold German beer poured by Bayern Brewing, live Oompah music provided by Missoula brass band OkTUBAfest, and a sister city info display, as we are hoping to break the participation record from past years!
Dr. Udo Fluck, Director of Arts Missoula GLOBAL