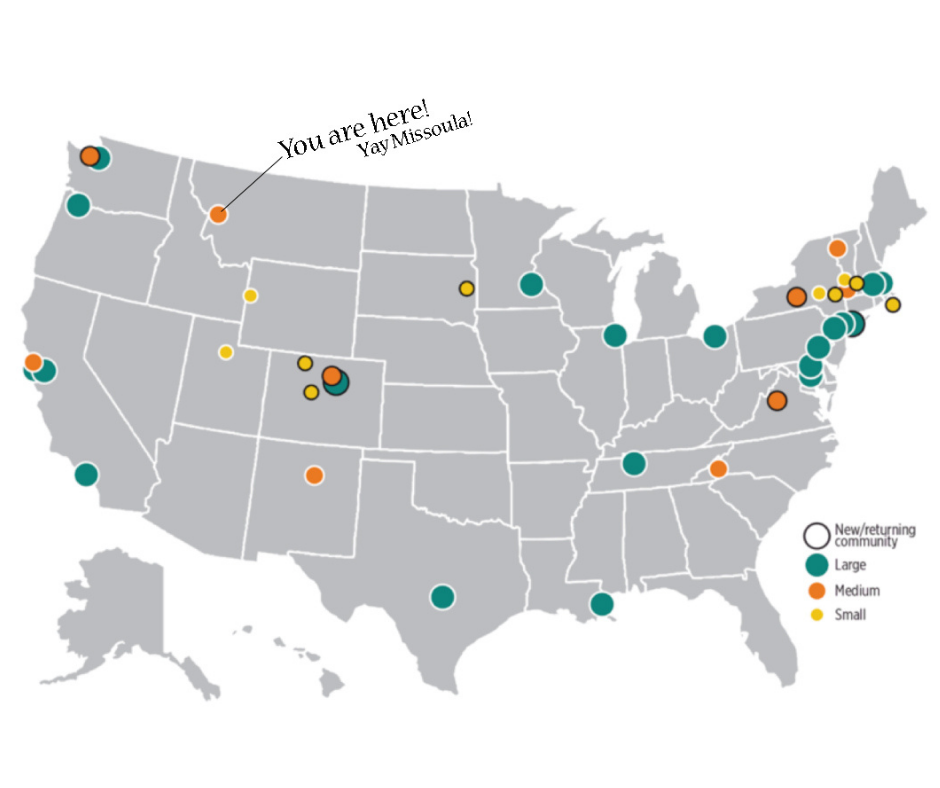 Posted on
Missoula often appears on national lists that make it clear why here is such a wonderful place to live, celebrating our easy access to outdoor recreation, good local beer, and live music. Most recently, and perhaps most unfortunately, Missoula is mentioned in the San Francisco Chronicle, topping the list of communities facing a housing affordability crisis aggravated by a 57.5% increase in home values that is matched by a 58% decrease in availability. On a happier note, a pre-pandemic Missoula achieved a #4 ranking in the mid-sized community category in the 2019 Arts Vibrancy Index Report (SMU DataArts, the National Center for Arts Research.) It's very gratifying to look at the Arts Vibrancy map and see Missoula standing alone in a vast geographic area (see above).
Ranking high in Arts Vibrancy is important to our community. As Randy Cohen from Americans for the Arts points out "The arts are fundamental to our humanity. They ennoble and inspire us—fostering creativity, empathy, and beauty. The arts also strengthen our communities socially, educationally, and economically—benefits that persist even during a pandemic that has been devastating to the arts." Check out Randy's 10 Reasons to Support the Arts in 2022 | Americans for the Arts.
Aside from the past two years, we Missoulians clearly embrace the arts in Missoula. As the pandemic recedes, think of the wonderful events we can look forward to again. The expansive list of organizations that will make that possible is important to take note of. It includes but is not limited to the Missoula Symphony Association, MCT Community Theatre, Missoula Art Museum, Montana Museum of Art & Culture, Montana Repertory Theatre, Zootown Arts Community Center, Rocky Mountain Ballet Theatre, Big Sky Documentary Film Festival, International Wildlife Film Festival, Buddy DeFranco Jazz Festival, International Choral Festival, Out to Lunch, Downtown Tonight, Montana Book Festival, River City Roots Fest, Festival of Remembrance, and First Night Missoula. We have gallery openings and exhibits, book readings, street performance, and independent theater productions. There is a lot happening on any given night. In fact, Missoula ranks #10 on the 30 Most Creative Small Cities published by the Western States Arts Federation which points out that "By location quotient, Missoula has a significantly higher concentration of independent artists, writers, and performers, theater companies, dinner theaters, art dealers, and bookstores than the rest of the United States." We are clearly blessed by an abundance of creativity.
But absolutely none of these events would be possible without an individual artist who has invested countless hours honing a skill in order to provide us with a chance to enjoy a performance or exhibit.
In fact, there is no "arts" without the "artist."
To connect the dots between arts and artist, Arts Missoula created the Individual Artist Grants, funded through the Patron Fund, as an investment in the artists who make our community better. This initiative was bubbling for several years when the pandemic made it clear that there was a gap to fill in supporting the arts, and we could try to fill that gap by supporting the artists who make those arts happen. Plain and simple, it's difficult to create a livelihood as an artist in the best of times, so the challenges caused by the pandemic economy only magnified the struggle. We received an incredible variety of applications from Missoula artists deeply engaged with making Missoula vibrant, proving the diversity of talent and need here. The first round of the awards have been granted, giving three Missoula artists a humble amount of reinforcement in their efforts to create art, connect with the arts community, and amplify the richness of our hometown. Check out this year's recipients here: Arts Missoula Grants | Arts Missoula
If you love living in Missoula for more than just the good beer and outdoor recreation, please consider making a contribution to the Arts Missoula Patron Fund here Donate | Arts Missoula Help us connect the dots and keep Missoula a wonderful place to call home.
ABOUT THE AUTHOR: Katie Patten is a local glass artist and co-owner of 4 Ravens Gallery. She served on the Arts Missoula Board for 7 years and currently serves as a community member on the Advocacy and Education Committee.