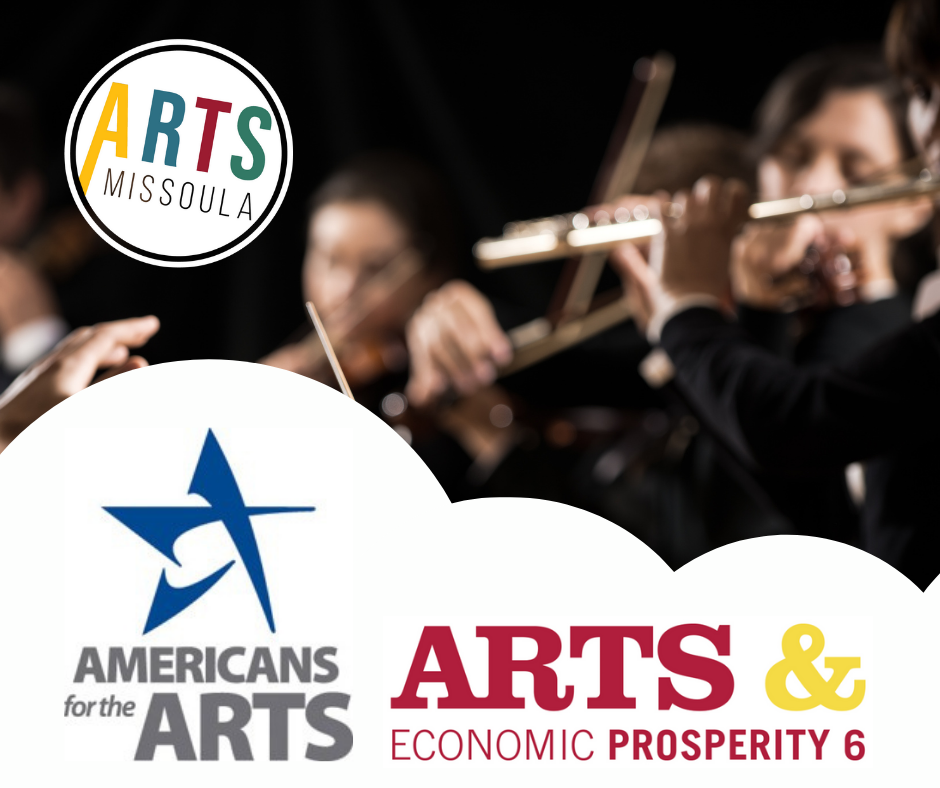 Posted on
Prior to the COVID pandemic, Missoula regularly made it onto the lists of towns and cities that have a thriving arts and cultural landscape. For several years Missoula was recognized as one of the top cities in Arts Vibrancy by Data Arts at Southern Methodist University. In 2019 Missoula was ranked #4 in the nation for small cities in that study. In 2020 Missoula was named as one of the 30 Most Creative Small Cities by the Western Arts Federation (WESTAF) located in Denver. One of the factors that gets Missoula recognized in these national studies is the strong nonprofit arts sector: The Missoula Symphony Association, MCT Community Theatre, Missoula Art Museum, Montana Museum of Art and Culture, the Historical Museum at Fort Missoula, the Clay Studio, Montana Repertory Theatre, Zootown Arts Community Center, Rocky Mountain Ballet Theatre, Bare Bait Dance, String Orchestra of the Rockies, Big Sky Documentary Film Festival, International Wildlife Film Festival and Roxy Theater, Buddy DeFranco Jazz Festival, International Choral Festival, Out to Lunch, Downtown Tonight, Montana Book Festival, River City Roots Fest, First Night Missoula, Missoula Writing Collaborative, and Open Air are all either nonprofit organizations or events produced by nonprofits.
Now that we are emerging from COVID, national organizations are looking to collect such data again. Americans for the Arts, the largest nonprofit arts organization in the nation, produces a large-scale study every five years called Arts and Economic Prosperity: The Economic Impact of Nonprofit Arts Organizations and their Audiences. After a year delay, they are embarking on this study beginning May 1. The information gathered from this study is invaluable and helps to put Missoula on those lists of vibrant arts cities.
The last such study, released in 2017, showed how vital the arts are to our local economy. In that study, the arts and culture industry contributed $54 million to the Missoula economy, with $20.4 million coming from the nonprofit arts organizations, and $33.6 million from audiences.
Missoula's numbers ($54 million) were nearly three times the national median for cities our size ($19.5 million), and comparable to those of larger regional cities, such as Eugene, Reno or Boulder.
The average attendee at a Missoula arts event spent $26, beyond the cost of admission, on items such as food, beverage and transportation. Out-of-town visitors spent $53 in such spending. Though only 20% of all attendees, these cultural tourists accounted for nearly half of all audience spending.
Nonprofit arts and culture in Missoula supported 1,913 FTE jobs, $39 million in resident household income, and contributed $4.3 million annually in state and local government revenue. These numbers vastly exceeded those of the national median for cities our size (512 FTE jobs, 11.6 million in household income, $1.1 million in government revenue).
From now through next April, Arts Missoula board members and volunteers will be at arts and cultural events asking audience members to fill out a quick survey on spending for an arts event. Each survey only takes a few minutes to complete, and does not ask for any personal information other than a zip code to determine if you are a Missoula resident or from out-of-town. Information regarding how much money you spent or plan to spend in connection with the event, such as meals, lodging, or local shopping, will be compiled using verified methodology by Americans for the Arts. We will collect 800 surveys from a variety of events over the next twelve months, assuring that we obtain a valid sampling for determining how the arts drive revenue for other businesses in our community.
We believe it is important to show that the arts and culture industry supports local jobs, generates government revenue, and is one of the cornerstones of local tourism. Thanks in advance to the local arts organizations that participate and allow us to survey their audience members, and to the audience members for taking the time to fill out a survey.
ABOUT THE AUTHOR: Tom Bensen is the Executive Director of Arts Missoula.