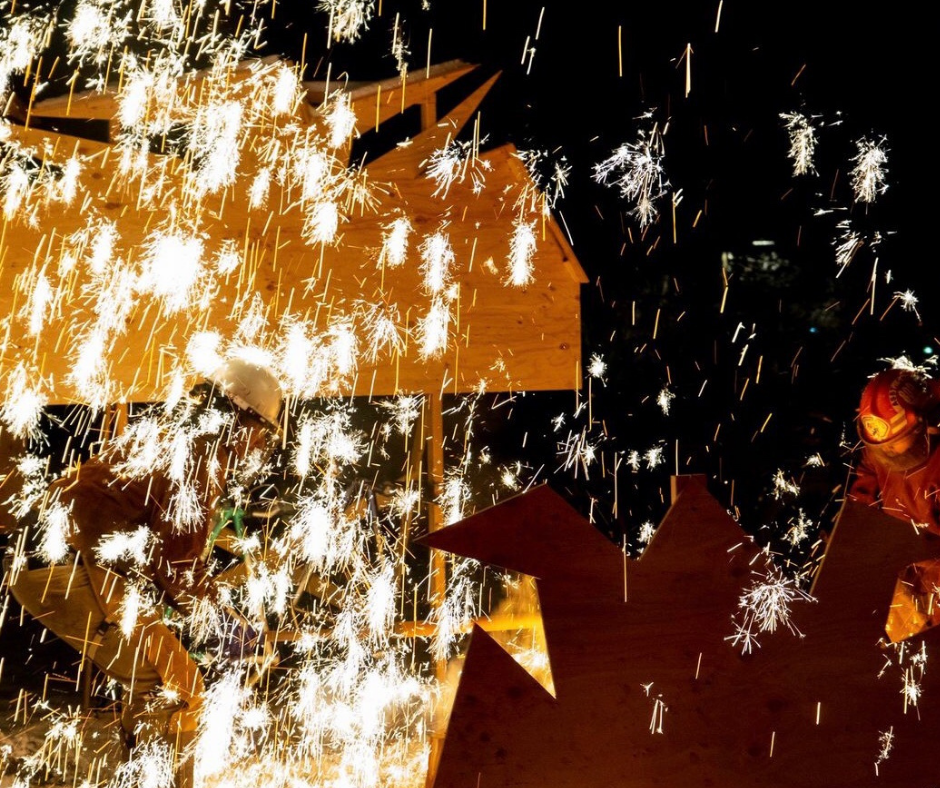 Posted on
By Melissa Blunt
I know New Year's Eve 2021 is but a memory at this point, but I've been compelled to return to that night's memory for the glow I still feel that it offered me and all the other attendees of Arts Missoula's First Night celebration.
In one word, it was connection. Or community, or maybe even e pluribus unum. And how rare is that in the world these days, even in Missoula!?
First, if you don't know about Arts Missoula's annual First Night celebration, or have known about it but avoided it for whatever reason, I'm here to say that it is the quintessential celebration of community – of our amazing community of artists and musicians and all variety of other creative endeavors like ice carvers, cooking instructors, puppet makers, mimes, dancers, and even some kind of iron fireworks which I unfortunately missed.
And the amazing thing is, its all put on in/around our beloved downtown simply for the attendees or participants enjoyment on New Year's Eve – to celebrate Missoula! It's a one-night showcase of the best Missoula offers – what makes us proud of Missoula's stature as one of the most culturally and artistically vibrant towns in the country.
At the evening gala finale at the new Library (thanks to them!!!) dancing to the World-Class Ed Norton Big Band, the kids were showing off their ballroom dancing skills (think Ginger Rodgers and Fred Astaire) while some of us older folk were holding held each other up on the dancefloor, but together we all danced our way into 2022.
And everyone was masked – everywhere I went!! No problem.
At each venue I was thrilled to see the mix of demographics, from young kids, high school and college students, middle-aged folk and old timers like me, and everyone from all walks of life. Everyone entranced by whatever we were watching. All sharing the same vibe, the same pride, and the same appreciation for what we were experiencing.
So that to me is the key, that we were all CONNECTED by the experience, even though if we saw each other on the street, we would be strangers, and in some cases, not of the same political or economic persuasion.
So that is the beauty of First Night – we are all connected through art, live performance, surprised by talent here among us. Creative art is a common universal language. Each of us, in our most basic instinct, responds to the creative… by experiencing someone being totally vulnerable in performance, and the elation we feel by experiencing something that we alone could never produce, like a dance move that we physically could never do, or a vocal pitch that is exhilarant.
Let First Night Missoula bring us together in this common language.
ABOUT THE AUTHOR: Following a 30-year career traveling the world as an educational tour operator from her home base in Missoula, Melissa now dedicates time supporting the arts in Missoula as a current board member of Arts Missoula, and previously as a member of the Missoula Symphony and Dolce Canto boards, and as Executive Director of the International Choral Festival.