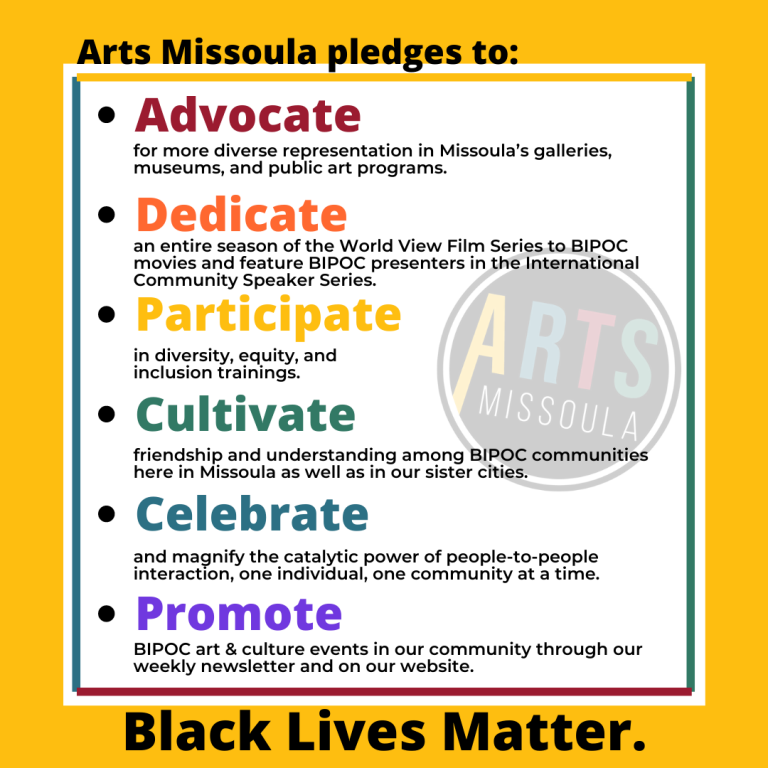 We acknowledge that we are on Indigenous land.
The Missoula and Bitterroot Valleys are the original homelands of the Séliš (Salish) and Qlispe (Pend d'Oreille/Kalispel) people who inhabited this land since time immemorial. This area was also frequented by other tribes including the Ksanka (Kootenai), Niitsitapi (Blackfeet), Newe (Shoshone), Apsáalooke (Crow), and Ka'I gwu (Kiowa).
We honor the original stewards of this land and their descendants, many of whom continue to live, work, teach, create and learn in this community. We are committed to showing gratitude for the land and its Indigenous peoples by respecting and remembering this in our thoughts and actions.
Arts Missoula denounces …
the increasing occurrences of bias, violence, and hate crimes toward Asian and Asian American individuals. In the wake of the Covid-19 pandemic, we are concerned with the real and devastating implications of hateful anti-Asian rhetoric in national and international discourse. We recognize that anti-Asian prejudice is one form of systematic racism. Arts Missoula affirms its commitment to be an anti-racist organization and working with allies toward a more just society.