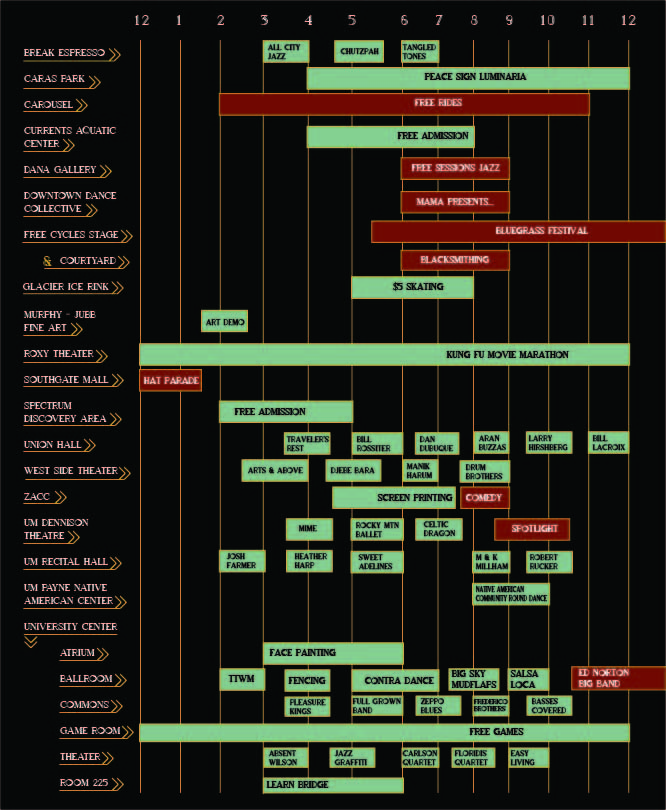 NOON
Kid's Hat Parade
Southgate Mall // 12 pm – 1:15 pm
Join us as we kick off Missoula's City Wide Celebration! Children are invited to decorate a hat for the parade. Hats and supplies will be provided, though pre-made hats are invited to walk in the parade. Prizes will be awarded for the most creative hats, and enjoy cookies and juice as you watch. Hat making begins at noon, and the parade will begin at 1 pm.
Kung Fu Movie Marathon
Roxy Theater // 12 pm – 12 am
Free Admission with First Night button.
UC Game Room
University Center 2nd Floor // 12pm – 12 am
Free games with First Night button.
1 PM
Watercolor Demo with Kendahl Jan Jubb
Murphy ~ Jubb Fine Art // 1:30 pm – 2:30 pm
Murphy ~ Jubb Fine Art will present a watercolor demonstration by Kendahl Jan Jubb in the gallery.
2 PM
A Carousel for Missoula
101 Carousel Dr. // 2 pm – 11 pm
Free carousel rides with a First Night button.
SpectrUM Discovery Area
812 Toole Ave. // 2 pm – 5 pm
Free admission with a First Night button.
2 PM
Turning the Wheel
University Center Ballroom // 2 pm – 3 pm
Turning the Wheel Missoula has been building vibrant, healthy community through movement games and creative experiences for more than 15 years. We will create a safe, playful, and friendly environment that will guide participants to connect with each other, release stress, and find their source of joy.
Josh Farmer
UM Recital Hall // 2 pm – 3 pm
Josh Farmer has been bringing his unique blend of jazz, funk, rock, and soul to the local music scene as a solo artist and with the Josh Farmer Band. Join him for a solo set at First Night.
Arts & Above
West side Theater // 2:30 pm – 4:00 pm
We create dances, music, visual arts, installations, films, and more. We present live performances for the local community, as well as nationally, and internationally. We perform in conventional and unconventional spaces, from proscenium to blackbox stages, and art galleries and the open nature. We provide educational opportunities through on-going movement classes, workshops, and residencies, and are committed to reaching out to people of all ages and backgrounds. Join Kate & Bruno of Arts & Above for a unique workshop.
3 PM
All City Jazz
Break Espresso // 3 pm – 4 pm
The Missoula All City Jazz Ensemble leads high school students through an intensive program featuring master workshops and visits from nationally acclaimed artists led by UM professor Rob Tapper. Join us in welcoming these talented students to the stage.
Garden City Duplicate Bridge Club
University Center Room 225 // 3 pm – 6 pm
We will introduce the ideas of bridge in a very brief presentation and then we will all have the opportunity to play some hands and have fun. Maybe you will decide that this should become a life long activity for you too.
SPARK! Arts Face Painting
University Center Atrium // 3 pm – 6 pm
Come SPARK! your imagination by getting your face painted, and turn into the superhero, mystical creature, or animal you've always wanted to be. Made possible by Painting With a Twist.
Absent Wilson Conspiracy
University Center Theater // 3 pm – 4 pm
Playing original, contemporary jazz with a few new standards, the band uses the composition as a springboard for exploration and improvisation, providing a musical journey for all listeners.
Missoula Fencing Association
University Center Ballroom // 3:30 pm – 4:30 pm
Demonstration of fencing techniques by club fencers. Participants will receive basic instruction in modern sport fencing and have an opportunity to fence using electric scoring equipment. Spectators are welcome!
The Mime: Christian Ackerman
UM Dennison Theatre // 3:30 pm – 4:30 pm
Christian Ackerman performer and award winning filmmaker with FastCoast Productions has been clowning around professionally over the years using the art of pantomime, dance, slapstick comedy, and impressions. He has worked with a number of Special Events and has been performing his one-man-show mime gig for 20 years with First Night Missoula.
Pleasure Kings
University Center Commons // 3:30 pm – 4:30 pm
The Pleasure Kings came together in 1997 in Missoula. They cover all genres of the blues. The Pleasure Kings are, Kevin Canty on guitar and vocals, Edie Smith on keyboards and vocals, Craig Menteer on drums and Ram Murphy, bass.
City Councilor Heather Harp plays piano
UM Recital Hall // 3:30 pm – 4:30 pm
"My piano is a lighthouse…" This performance I envision is not just about me playing piano; it is an opportunity to share my story of depression and how the Arts save my life every day.
Traveler's Rest Presents Mariah Gladstone
Union Hall (Upstairs Ballroom) // 3:30 pm – 4:30 pm
Mariah Gladstone (Blackfeet, Cherokee) grew up in Northwest Montana. She graduated from Columbia University with a degree in Environmental Engineering and returned home where she developed Indigikitchen. Mariah has been recognized as a "Champion for Change" through the Center for Native American Youth, a "Culture of Health Leader" through the Robert Wood Johnson Foundation, and a Grist 50 "Fixer." She is currently on the board of the Native Youth Food Sovereignty Alliance (NYFSA).
4 PM
Peace Luminaria
Caras Park // 4 pm – 12 am
Come share your resolve for world peace with the Jeanette Rankin Peace Center peace sign luminaria. Luminaria are paper bags, sand, and candles – each one glowing like a lantern. You can bring your own luminaria or make one on site. JRPC provides the materials, you provide the peace.
Currents Aquatic Center
600 Cregg Lane // 4 pm – 8 pm
Free admission with First Night button.
Chutzpah
Break Espresso // 4:30 pm – 5:30 pm
Chutzpah was formed in 2011 by friends from a variety of musical backgrounds with a common interest in the joyful and charmingly bizarre music of Klezmer, a folk music tradition that draws influences from all the lands Jews have lived in and traveled through—primarily the Middle East, Turkey, and Eastern Europe. You'll hear this lively dance music at weddings, bar and bat mitzvah celebrations, and other events where dancing is encouraged.
Djebe Bara with Oumar Keita
West side Theater // 4:30 pm – 5:30 pm
The charismatic Oumar Keita from Guinea, with the support of the Djebe Bara performance group, will lead a West African song and dance interactive workshop, with live drumming, for the whole family and people of all ages and abilities. Djebe Bara's mission: Through classes, performances and workshops we provide opportunities to participate in and appreciate African musical arts in Missoula.
Jazz Graffiti
University Center Theater // 4:30 pm – 5:30 pm
Jazz Graffiti is missoula's multi-generational jazz ensemble. made up of guitar, bass, drums, trumpet, and both tenor and alsto saxophones, the group performs a lively mix of classic and contemporary jazz. combining some of Missoula's young jazz musicians with several veteran players, Jazz Graffiti is adept at a variety of styles: funk, soul, blues, latin, and swing – and is adept at pleasing audiences of all ages and musical tastes.
ZACC Print it a Go-Go
Zootown Arts Community Center // 4:30 pm – 7:30 pm
Bring us your light colored t-shirts! The ZACC print shop staff and interns will help attendees screen print a "First Night 2020" image on it. Visitors can also participate in a collaborative stamp project and stamp their masterpieces on paper to take home.
5 PM
Contra Dance with Missoula Folklore Society
University Center Ballroom // 5 pm – 7 pm
The Missoula Folklore Society will lead all comers in fun, easy to learn group folk dances (contra). If you can walk and smile at the same time, you can contra dance. A caller teaches the dance and then calls cues as the dancers dance. All ages welcome. Great Irish music by Skippin a Groove.
Full Grown Band
University Center Commons // 5 pm – 6 pm
Originally formed in 2000 as a 4-piece dance band, Full Grown Band has evolved, morphed, and expanded into a full-blown, horn-driven powerhouse of 7 of Missoula's most talented and experienced players performing a unique mix of R&B-inspired original and dance music
Discounted Ice Skating
Glacier Ice Rink // 5 pm – 8 pm
Get admission and a skate rental for only $5 when you wear a First Night button!
Rocky Mountain Ballet Theatre Co.
UM Dennison Theatre // 5 pm – 6 pm
Rocky Mountain Ballet Theatre presents a program of dance that ranges from hip hop to ballet and incorporates works they performed recently in Los Angeles and internationally.
Five Valley Chorus of Sweet Adelines
UM Recital Hall // 5 pm – 6 pm
The Five Valley Chorus is made up of joyful women who love to sing and perform four part a cappella harmony – an original American art form called barbershop harmony. When the chords are true they 'ring' producing one or even two more tones in the chord!! It's a true pleasure to share our joy and music with our audiences and we look forward to seeing you at First Night. Our friends the Rocky Mountainaires, the local men's barbershop chorus, will appear with us too.
Bill Rossiter
Union Hall (Upstairs Ballroom) // 5 pm – 6 pm
Bill Rossiter leads us through the Depression with a glance at Montana's early start, not through history and literature, but through songs and illiterature, looking at what happened to common folks most affected by it. This bareknuckle report on the state of during the Dirty 30's is accompanied by banjo, guitar, and autoharp. Presented by Humanities Montana.
Pinegrass
Free Cycles // 5:30 pm – 6:30 pm
"Banjo Jack" Mauer, Fiddlin' John Joyner, and Pinegrass are celebrating 30 years entertaining Western Montana with their unique blend of traditional and new bluegrass, old-time, and more. Guitarist and folksinger Britt Arnesen deftly leads the group into the new decade, keeping the musical tradition alive with old favorites and new surprises.
6 PM
Tangled Tones
Break Espresso // 6 pm – 7 pm
Tambourine Queen is a band of youth musicians from Missoula, MT. They have been playing together for 5+ years. They are part of a program at Tangled Tones Music Studio named "Playing With the Band". The band consists of: Garon Jones – Bass/Vocals, Aspen Nord – Guitar/Vocals, Asher Beaudin – Saxophone/Vocals, Jack Queneau – Keyboards, Maxum Doucette – Percussion/Vocals & Adam Kelley-Jorgenson – Lead Guitar/Vocals. Hope to see you at the show!
Free Sessions Jazz
Dana Gallery // 6 pm – 9 pm
The Free Sessions is an improvised music jam session to promote collaboration amongst musicians in Missoula across genres and ages. Our aim is to cultivate a healthy musical eco-system in Missoula. We are fostering a climate of improvisation, transcending musical styles and structures. This session is to encourage active listening among all participants and a full acceptance of all musicians. It is a place to grow your musicality and yourself.
Montana Area Music Assoc. Presents…
Downtown Dance Collective // 6 pm – 9 pm
Join MAMA and local artists as we ring in the New Year. First Night Missoula allows us an opportunity to reflect on the past year and to celebrate another revolution around the sun. As MAMA moves forward our resolution is to continue to bring opportunity to artists and creators in Missoula and across Montana. Featuring Red Onion Purple, Naomi Siegel, Valley Lopez, Rebecca Kelley, Paige Grey, Hardwood Heart, and your host Jackson Holte.
Turning a New Leaf: Blacksmithing Workshop
Free Cycles // 6 pm – 9 pm
For First Night 2020 local artists Jesse Blumenthal and Accomplished Artist Assistants will offer a community based workshop where participants can forge their own decorative leaf. The transformation of the leaf by the hand of the participant will provide an opportunity for self-reflection as we "turn a new leaf" in approaching the coming calendar year. Leaves will be pre-cut from mild steel, participants will then texturize, embellish, and fold their pattern into a unique piece of art they can take home in memory. There will be examples on hand of techniques that are accessible to varying skill levels offering a variety of experiences. There will be three forges and three anvils on site allowing for six participants to work simultaneously. Leaves are expected to take anywhere from 10 – 30 minutes depending on the dedication of the participant.
Carlson/Troxel Quartet with Jim Driscoll
University Center Theater // 6 pm – 7 pm
Join Kimberlee Carlson and friends for a lively evening of music. If you're a fan of classic, hard driving jazz with smooth ballads, this band fits the bill.
Gamelan Manik Harum
West side Theater // 6 pm – 7 pm
Join the Missoula Community Gamelan Manik Harum with guest artists, I Made Lasmawan and Ni Ketut Marni, master musician and dancer from Bali, Indonesia, for a performance of Balinese music and dance, including audience participation with Kecak. Kecak is an energetic vocal chant and dramatic art form popular on the island of Bali. All are welcome!
Zeppo Blues
University Center Commons // 6:30 pm – 7:30 pm
Old time musical friends from 40 years playing in Missoula. Good feeling and fun times abound with great classic American roots music.
Celtic Dragon Pipe Band
UM Dennison Theatre // 6:30 pm – 7:30 pm
Missoula's own Celtic Dragon Pipe Band echoes down the years from Scottish glens and Irish loughs. Come and celebrate the end of the year with the pipes and drums, and the Missoula Highland Dancers. Give the new year a launch worth remembering.
Dan Dubuque
Union Hall (Upstairs Ballroom) // 6:30 pm – 7:30 pm
Dan Dubuque is a one man band with a Weissenborn Slide Guitar. Plays all over Montana and occasionally out of state. Opened for Reggie Watts at The Wilma and The Wailers at The Eagles in Bozeman
7 PM
The Acousticals
Free Cycles // 7 pm – 8 pm
The Acousticals are three of Western Montana's premier bluegrass musicians, Richie Reinholdt – guitar and vocals, Britt Arnesen – upright bass and vocals, and Chad Fadely – mandolin performing all original music composed by the group.
Big Sky Mudflaps
University Center Ballroom // 7:30 pm – 8:30 pm
The Big Sky Mudflaps are celebrating 44 years of performing together. Since 1975, their unique sound – a lively blend of rhythm & blues, swing, & rock 'n' roll – has won them national acclaim. The Big Sky Mudflaps have released six full-length albums: "Armchair Cabaret," "Sensible Shoes," "Shake, Rattle & Roll," "Armchair Cabaret Live," "Cold Duck Time," and their newest recording,"Home Base," which was released in December of 2017 to rave reviews. all recordings are currently available on cd from Spud Records.
John Floridis Quartet
University Center Theater // 7:30 pm – 8:30 pm
The John Floridis Quartet combines a deep respect of well written songs with an adventurous jazz inspired spirit of improvisation, and the result is an energetic blend of groove based bluesy, folk-rock.
Drum Brothers
West side Theater // 7:30 pm – 9 pm
Drum Brothers present high energy performances that celebrate a diverse mix of world instruments and sounds: West African jembe and dunun drums, Middle Eastern frame drums, Australian didgeridoo, close harmony vocals, acoustic guitar, flute, saxophone, and original arrangements and compositions.
The Last Comedy Show on Earth
ZACC Show room // 7:30 pm – 9 pm
Presented by Homegrown Comedy, featuring:
Becky Margolis
Becky Margolis has been performing stand-up in living rooms, daycare centers, and dive bars across Montana for the last seven years. She is the 2019 winner of the Missoula Homegrown Comedy Competition
August Ansley
August Ansley is a queer comic from Missoula. They've been doing stand up for 4 years and have performed in the finals of a stand up competition twice, performed at pride 3 times, as well as various fundraisers across the state.
Aaron Juhl
From the vertical streets of Butte to the warzones in the Middle East, Aaron Juhl knows he's a hero, thank you very much.
Lenny Peppers
Lenny Peppers is a filmmaker, writer, comedian and activist. This year she was nominated for Best Comedian at the annual Native American Music Awards.
& Your Host: Charley Macorn
Charley Macorn is a nationally-touring standup comedian, writer, and general weirdo.
8 PM
Native American Community Round Dance
UM Payne Native American Center // 8 pm – 10 pm
Honoring Our Missoula Community pow wow committee invites all to join in celebrating the new year with our Native American Missoula Community. Local American Indian Services providers have collaborated to bring together singers for a social round dance. Come and learn about this form of social gathering and participate in the dancing.
The Frederico Brothers
University Center Commons // 8 pm – 9 pm
The Frederico Brothers song list is made of memorable originals and quirky cover songs that feature outstanding 3-part harmony singing and splashes of electric guitar anchored by a slyly muscular rhythm section. Touching on elements of rock, country, blues and folk, the band's emphasis on the song, rather than the players, makes for sophisticated and uniquely "Missoula" sound-experience.
Michael & Keleren Millham
UM Recital Hall // 8 pm – 9 pm
Guitar and voice at the edge of the songwriting tradition: with unstuffy virtuosity, Michael and Keleren Millham merge the worlds of folk, classical and world music into a passionate, yet accessible, blend of sophisticated soundscapes and ethereal melodies.
Aran Buzzas
Union Hall (Upstairs Ballroom) // 8 pm – 9 pm
Aran Buzzas plays homegrown Montana folky tonk! Classic county/honky tonk with a hearty dash of Irish folk music, often with a regional setting!
First Night Spotlight
UM Dennison Theatre // 8:30 pm – 10:30 pm
Annual High School singing competition. View Details.
Lochwood
Free Cycles // 8:30 pm – 9:30 pm
Lochwood, featuring Chad Fadely, Steve Taft, John Parker, Richie Reinholdt, and Taylor Buckley is Montana's most traditional Bluegrass band! Coming together in 2014, the goal of this band has always been playing the music in the tradition of Bill Monroe, Flatt & Scruggs and the Stanley Bros., featuring 3-part harmonies, hard driving rhythms and exciting solos.
9 PM
Salsa Loca
University Center Ballroom // 9 pm – 10 pm
Salsa Loca is Montana's hottest latin music ensemble. made up of some of the area's finest musicians, Salsa Loca specializes in the irresistible rhythms of Cuba and Latin America – bolero, cha-cha, mambo, samba, and beyond. this is some of the best party and dance music in the world.
Rhanda Johnson & Easy Living
University Center Theater // 9 pm – 10 pm
Enjoy a variety of music including some of the all time great jazz standards, originals and a few band favorites that make the living easy. Bruce Allen on bass, Ron Meissner on guitar, Ed Stalling on drums and songbird, Rhanda Johnson, on vocals.
Basses Covered
University Center Commons // 9:30 pm – 10:30 pm
Slip on your dancing shoes! Grab a dance partner and move to the beat — and Basses Covered's three-part harmonies — of rock, folk, doo wop, country and jazz covers. Our favorite covers just might be yours, too.
The Robert Rucker Project
UM Recital Hall // 9:30 pm – 10:30 pm
The Robert Rucker Project has taken from the golden age its melancholy, its blue mood, as it were, that seems fitting in today's uncertain world. The Rucker Project is aligned with musicians such as Thelonious Monk, Duke Ellington, and Louis Armstrong alluding to them as a reference, but recreating from the past.
Larry Hirshberg
Union Hall (Upstairs Ballroom) // 9:30 pm – 10:30 pm
Hirshberg offers words, music and guitar playing to all listeners. A story flies through every song, and lots of colors are used to mix each metaphor into a wavy flag of sound. Occasionally he goes too far.
10 PM – Midnight
The Loose String Band
Free Cycles // 10 pm – 12 am
The Loose String Band plays an energetic and powerful mix of 'amerigrass' music, from progressive bluegrass to Janice Joplin, as well as original tunes. You'll hear fiddle, banjo, guitars and bass. Soaked in harmonies, each song gets LSB'd – it's a trip!
Ed Norton Big Band
University Center Ballroom // 10:30 pm – 12 am
The Ed Norton Big Band is a 17-piece dance band specializing in classic American swing music. The band's repertoire includes tunes from the great bands of the swing era, including Glenn Miller, Tommy Dorsey, Benny Goodman, Count Basie, and Duke Ellington, alongside more modern jazz masters such as Charlie Parker and Sonny Rollins. from "In the Mood" to "One O'Clock Jump," swing dancers of all ages will hear their favorites. Nothing swings like a genuine big band, and the Ed Norton Big Band swings with the best of them.
Bill LaCroix
Union Hall (Upstairs Ballroom) // 11 pm – 12 am Bill will do a solo set using two homemade, traditionally-constructed instruments. The fretless gourd banjo (built by Bill) is a loose copy of the African instrument that morphed into America's modern version during the Minstrel era starting around 1850. The "Rocky Mountain Dulcimer" is a cardboard construction of Ray Jacob's, from Eureka, Montana, which recalls the cigar-box iterations of the "Banjar" springing from the Appalacians when cigar-boxes were easier to come by than money. Do it yourself! Or at least come and take a listen