In fall of 2018, Global and Cultural Affairs in collaboration with The Roxy Theater, inaugurated the World View Film Series, which screens four international movies (either foreign productions, or with a focus on a country abroad) in the fall and four in the spring of each year. A five-person committee selects a seasonal focus and the corresponding films.
Udo Fluck hosts the evenings, every second Monday of the month, at 7 PM at The Roxy Theater, located at 718 S. Higgins Avenue. Local artist Courtney Blazon designs the official poster for each fall and spring season.
The film series provides a "Window to the World" for Missoula that is FREE and open to the public!
Current Series:
Spring 2020 – Cultures at the Table (Films about food in movies) will include:
Chocolate (2000) British-American Romantic Drama
Soufra (2017) Lebanese Documentary
Jiro Dreams of Sushi (2011) Japanese-American Documentary
Babette's Feast (1987) Danish Drama
Past seasonal themes included:
Fall 2018 – Cultures in Motion (Films about dance in movies)
Spring 2019 – Cultures in Harmony (Films about music in movies)
Fall 2019 – Cultures on Display (Films about art in movies)
Entire series sponsored by Lake Missoula Tea Company, US Bank and Rideg Law. Individual films sponsored by: SG Long Financial, International Rescue Committee, Soft Landing, Pink Grizzly, Montana World Trade Center, Jeanette Rankin Peace Center and The Missoula Symphony and Chorale.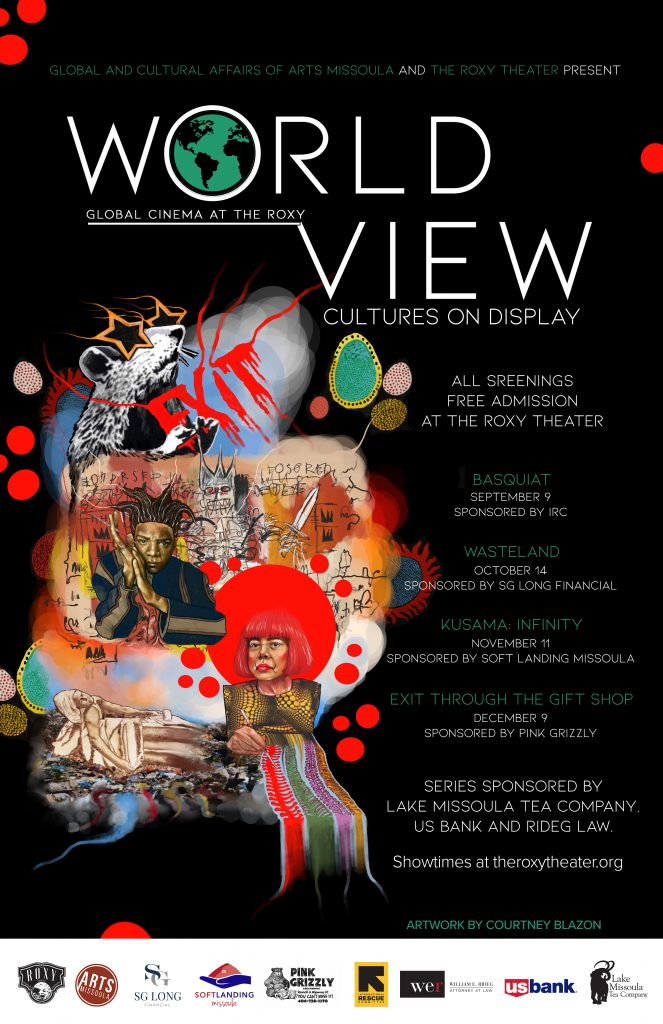 All Poster Art by Courtney Blazon.